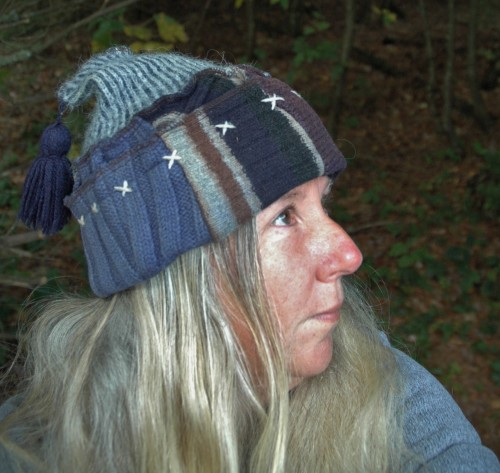 I adore a cute hat, and since I spend the majority of my time in an outdoors environment, these first cool, post summer season days have me thinking about my wardrobe of chapeaus. The picture above is my tried and true standby. It's made from recycled sweaters, by Face II Face London, and I paid good money($70) for it when I bought it at Barneys in about 1998. (I've tried to locate a web source for the designer of this hat and been unable – If anyone has a link, please contact me and I'll update!)
Actually, my friend, Rita bought this particular hat. I had purchased another coloration, in creams and gray tones, from the same designer, and Rita so adored my cap that she immediately insisted we go find one for her. She chose this one, and we were an awesome pair when we sauntered the streets of Manhattan in these wonderfully original creations. Rita died a few years later, from Lung Cancer, and her partner asked me to help clean out her closets. He kept suggesting I take an item; that Rita would have wanted her clothing to go to friends, but Rita was size 4 or 6, and I am…not. When I saw the blue sweater hat nestled with a pile of her winter accessories I knew I could honor our friendship by donning that cap.
So, most of the time, that is the hat I wear in winter, but I still really love hats! And so I find myself thinking about a purchase…..
Here's another one, which I bought last year at a local craft show. This piece was made by Karen Lloyd of Knit in Color.  It was just so damned cute that when I saw it, I had to take it home! It has a tassel on the back as well as the two at the sides, and the texture of the yarn is fantastic. She has similar ones in other colors in her shop, and…I know this post is about hats, but Karen also makes doggy sweaters(and my Lucas loves the one she made custom for him!)..
One of my favorite places to window shop are at the digital boutiques of my fellow Etsy sellers. I'd like to share a few of the finds I have come across in my search.
This, from Wildthyme, is wild! The creator makes each hat with no pattern
I love the colors in this one, from Dog Mountain Knits. The textured yarn is so pretty.
This one, from The Mast Hatter, reminds me a bit of a French beret!
Here's one that is also made from recycled sweater pieces, from Enchanted Ground.