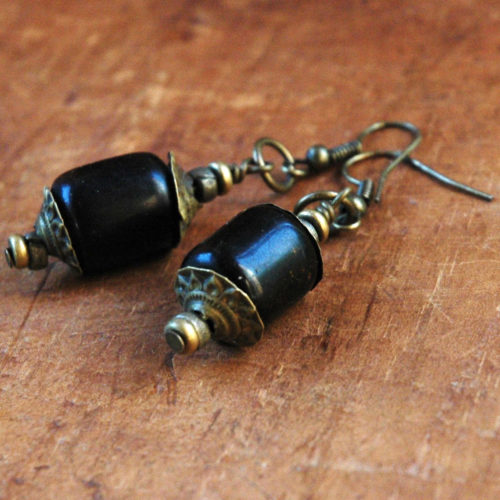 One of my favorite pastimes is browsing through antique and vintage shops, whether online or on the street. Mostly, I justify my use of the time(which can be significant) with the idea that I am searching for vintage buttons that I can use for my collection of ponytail holders at Talisman Studios, but just as often I am enjoying the design and practicality of objects which once were part of someone's home.
When I saw the necklace that I harvested the beads I created these earrings from, I couldn't resist buying the piece, and I almost completely forgot to ask the obligatory question("Do you think you could do better on the price?"), because I wanted to get that beauty home and dismantle it!
I am guessing the necklace was a souvenir purchase someone of my mother's generation made while traveling in the Middle East or perhaps Asia, The necklace was fairly simple, and not likely to be desired in and of itself, at least at this time. Too clunky for current styles, I thought, as I considered the negative aspects of using the parts instead of keeping it whole. But the beads – so wonderful!
The barrel shaped focal beads are almost certainly Bakelite. Though I have not tested for authenticity, Bakelite is fairly easy to recognize.  It has a certain sumptuous look and a saturated denseness that is pretty unmistakable. However, I decided to leave the question open – I do not think the material matters quite so much, in this case. Bakelite or not – they are just lovely beads; a deep chocolate brown, almost black, color.
But the truly remarkable components are the brass bead caps.  Each one was cut individually. Looking closely, one can see the angled marks of the metal snip used to make them.  The design is inspired by a Lotus Flower motif, which is why I wonder if the necklace wasn't originally sold in some local bazaar in one of the mountainous regions of the Himalaya. They are delicate, thin sheets of metal, and this makes then precious, in my opinion.
I opted to add a simple round ring to the top of the design, when I made these earrings, and am reminded of a lantern shape. I have enough beads to make a half dozen or so pair of earrings, but I would also like to use some in necklaces.
The earrings have some sort of appeal, as each and every time I wear the pair I am keeping for myself, someone has commented on their beauty. This just doesn't usually happen to me. So I have to believe that somewhere along the line, these beads were handled by someone with a strong and positive energy.  I think it may have been the artisan who crafted the brass beads, and probably the original necklace.I can imagine a man, crouched into the squatting position of rest one sees of the tribal folks of the East, working on new creations as he spent his time selling to travelers passing through.  I see him as a kind man friendly, interested in his visitors, and accepting. I am grateful to have found the necklace, and am confident that man would smile in knowing the pieces will be finding new wearers ho will appreciate their beauty.
You can find the earrings, available for sale, in my Talisman Too shop.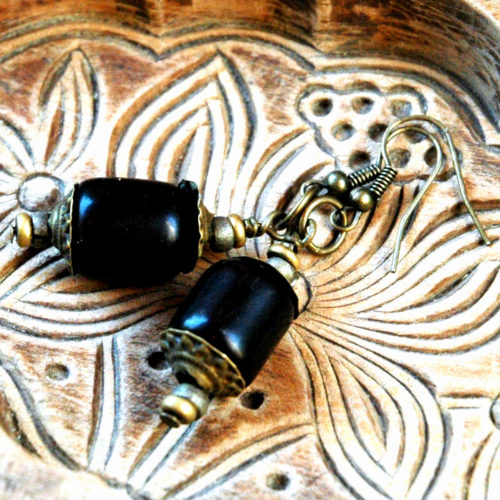 <a href="http://www.bloglovin.com/blog/18171003/?claim=nc77q77q6ye">Follow my blog with Bloglovin</a>
Save
Save
Save
Save