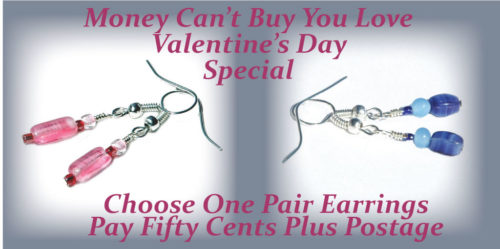 I know what it's like to want to do something special for someone, and be so limited in my funds that it can be difficult, and I know I am far from being the only one who knows that predicament!
That's why, this year, I want to do something to help people who aren't in a position to spend much money give a little Valentine's Day gift to someone they care about. To that end, I am offering a choice of Pink or Blue Glass Bead Earrings for sale at the price of fifty cents each, plus shipping.  The cost covers my Listing Fee of twenty cents, and thirty cents for the padded envelope.  Shipping cost is set by the post office, at $2.62.
This promotion is available for a limited time only, as I have only so many beads to make these pieces with, and of course because Valentine's Day is coming up soon.  The offer is subject to end without notice!
Here are the Details:
Only ONE piece per person, please. If you purchase more than one of these specially priced items, your order will be cancelled, and your money refunded. You CAN, however, include other items from the shop in your order.
United States addresses only.
Link to the Pink Earrings
Link to the Blue Earrings