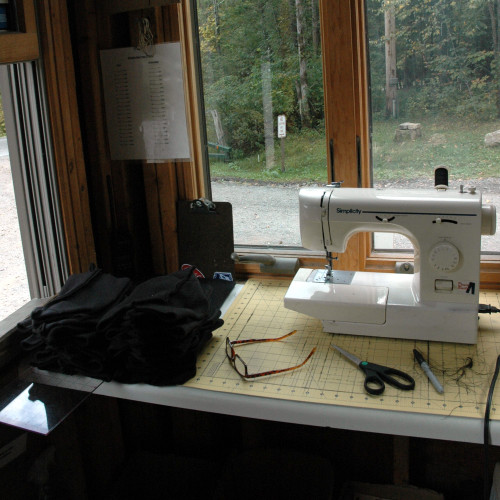 One Benefit of Having a Low End Day Job
Working towards a career; I've been there and done that. For more than a dozen years, I was a commercial handbag designer in New York City, working for several import companies throughout those years. The pay was great and I loved designing, but for anyone who wonders….the answer is "yes."
Yes, the fashion world is an extremely stressful environment. There are serious deadlines that need to be managed, and most designers have to get their own lines done and deal with creative "input" from everyone else in the company, from the owner to the sales manager, to the just-last-week hired new salesperson to the receptionist. Everyone has an idea, everyone has an opinion….
I left the industry in 2001, a month after the horror of September 11th. Disclaimer: I was fired from the job, as I was fired from nearly every single job as a handbag designer that I had. Only once did I leave on my own accord, with another job waiting. That felt good, I'll admit. But getting fired didn't really feel that bad. I was good at what I did. Too good. I'd often get asked, after one season, to "help" another designer who was having difficulty in bringing a successful line to fruition. I hated that. H.A.T.E.D. it. Usually, the other person resented my being foisted upon them, and they accepted me with disdain, or tried to throw all the bad idea and non-fun work my way. They still got to be introduced as "our designer," while I sat in back taking notes. They were the ones who went to Europe for shopping trips. I could get the same results with magazine research. I resented it and, like a stubborn donkey, I balked. Eventually it was clearly not working and I'd be let go, only to be hired almost immediately at the next place I interviewed.
So….I developed a bad taste for commercial fashion design.
My first personal business venture was making decorative arts in stained glass. I had an Arts & Crafts aesthetic, and really enjoyed working with color and shape. When the time came where my next step would have been to do trade shows, I stalled, unable to fund the expenses that came along with a several thousand dollar booth fee and fronting the costs on wholesale orders. I still wish that I will someday have a glass studio to play in again. I'd happily take up right where I left off, and now with the internet, I could avoid the entire wholesale aspect.
My hair accessories made from vintage buttons came on the heels of the glass work, and had a level of acceptance instantaneously. My very first client was the wonderful, indie-designer friendly boutique, Henri Bendel. Talisman Studios hair goods continues today and is well-loved.
My beaded work is fairly new, and I struggle with it. There is just so much competition, it is frustrating. It isn't enough to make pretty little things; they have to be photographed with a professional-level quality, and all text related to any online presence must be optimized for search.
But I digress. My post was supposed to be about how grateful I am to have a day job that has a substantial amount of downtime, and a location that allows me a fair amount of privacy. I am paid (not a lot, mind you) to sit in a booth in a parking lot, at a trailhead on a nature preserve.
My duties are to greet visitors and check to see if they are members of the preserve. If not, I sell them day passes, and try to provide information on the benefits of becoming a member. I also provide information on trails and help them plan hikes that fit with their fitness level and available time. During busy times, it can be very busy, but even then, the starts and ends of the shift are often fairly quiet.
Our busy summer season has ended and autumn foliage enjoyment has just peaked. Weekdays have been extremely slow, allowing me hours and hours to work on my own projects. I'm even able to get quite a bit done between busy spurts on the weekends. The luxury of time!
The other day, for instance, I was able to cut and sew 2 dozen fleece liners for the chalkbags I sell under the ClimbAddict Designs label. There I was, sitting in a 4 by 8 foot ticket booth, running my sewing machine via solar power. Unfortunately, it had been a cloudy day, and the power keeps winnowing. But, I completed the task, with time to spare(enough time to begin this blog post, another thing I am able to do while "on the job.").
I've photographed product for both my hair and jewelry in the booth, and hammered away at metal and practiced learning wireweaving techniques in my little "work studio." Jewelry making while at work isn't my favorite activity, though, because I do have a stream of visitors who need my attention, and the interruptions can sometimes come at an inopportune time.
One other way I have been able to "double up" on work, has been creative writing. I'm now about ninety percent complete on the first draft of a novel, tentatively entitled "The Little Girl." The writing has been done almost exclusively in this little wooden booth, while I am being paid to do my day job.
Some of my coworkers also do crafts while on the job, but mostly they read books, magazines and newspapers. I am a voracious reader, but I would go insane if that was all I had available to fill my open "on the clock" time.
I've got just another 10 days left before I head off on my winter travels, and I must make the most of the time available here "in the booth." Once I close that door for winter on November 10th, my studio becomes even tinier – the passenger seat of my van! And, unfortunately, with no company job to pay me for a pleasant and fun job with plenty of down time to work on my own projects.
Do you have an unusual workspace, or a day job that gives you time to work on outside projects? I'd love to hear about it in the comments section!